Flotilla 06-07, Santa Cruz, California, District 11 NR
Sailing Skills and Seamanship
Taught By the U. S. Coast Guard Auxiliary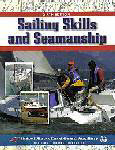 Sailing Skills and Seamanship
Course Description
The USCG Auxiliary's Sailing Skills and Seamanship Course (SS&S) is a fun and educational course for beginning sailors and for experienced sailors who wish to hone their sailing skills. Students will build the skills and confidence that will serve as the foundation for a lifetime of sailing enjoyment. It uses a well illustrated text to introduce fledgling sailors to the equipment, nomenclature and safe operation of sailboats. Each of the text's chapters has review questions and there is an extensive glossary and index. The course has its own exam and certificate of accomplishment.
The course is taught entirely in the classroom. No on-the-water training is provided.
Flotilla 6-7' s Sailing Skills and Seamanship Course is offered in conjunction with the NASBLA approved America's Boating Course. Since this class is offered in conjunction with NASBLA approved USCG Auxiliary course, a state boating safety certificate will be issued.

Topics include:
BEGINNING TO SAIL -- the sailboat and the wind, the sailor's language, parts of a boat, sails and control terms, sailing terms, points of sail, how a sail works, tacking vs. jibing, heading up, heading down, in irons, sail care and folding.
SAILBOAT HANDLING -- rigging, launching, getting going, your first sail, close hauled sailing, coming about/tacking, running-sailing, downwind, steering, jibing, safety considerations.
SAFE SAILING -- capsizing, righting, scoop recovery method, rescuing, heavy air sailing, upwind and close reaching, downwind, man overboard, what to wear, cold and hypothermia, dealing with the sun.
ADVANCED TOPICS -- crewing, centerboards, planning your sail, navigation, wind and weather, tides and currents, sailing in a confined area, steering and sailing rules, docking/mooring/beaching, knots and lines.
Insurance Discounts
Many insurance companies will offer discounts on boat insurance to individuals who successfully complete this course.
Certificate of Completion
Individuals who successfully complete the course and exam are awarded certificates and cards.
How Much?
The course fee is $55.00. This fee covers all course materials including the textbook.
For More Information:
Contact the Flotilla 6-7 Flotilla Staff Officer for Public Education (FSO-PE) listed under Contact Information on the Flotilla 6-7 home page.
The Flotilla Communications Services Officer (FSO - CS) responsible for this site may be reached at the following e-mail address: cso@solopublications.com

Back To The Top


Back To The Top

11-18-08